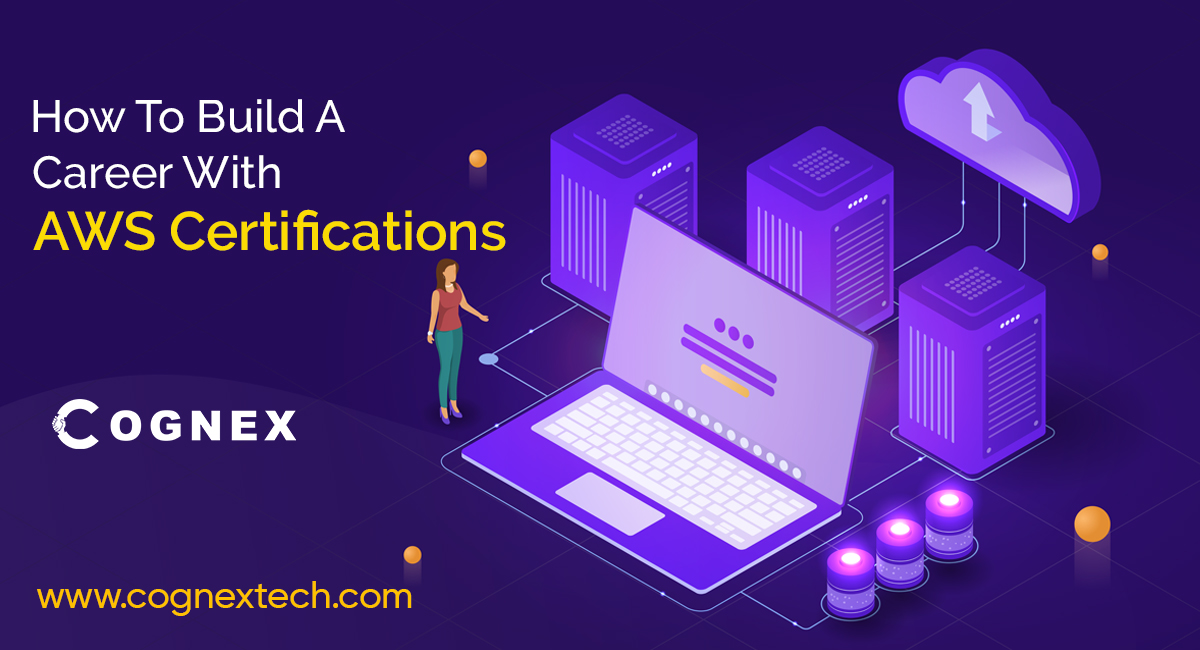 How To Build A Career With AWS Certifications
What is AWS Certification?
AWS certifications are one of the best choices for a beginner or an experienced developer to begin a career or to get advanced in their field. AWS Training and Certification are the most valuable elements of AWS cloud services. Many investments and turnovers are rendering a great impact on cloud computing. Cloud computing has risen to a bigger extent. Cloud computing is undoubtedly one trending technology everyone can confidently learn and practice.
Cloud Engineers receive $145k per year. Thus, an AWS certification can be the best solution for your career growth if you are already employed or looking for a fresh opportunity.
Choosing the suitable AWS Certification
Choosing the right AWS certification is important for determining your career interests. The reason to choose AWS is very simple and crystal clear because 50% of the cloud platforms are being run on AWS servers. It is proven that AWS knowledge is far enough to develop or newly build a legacy project.
To choose the right AWS certification, you don't need so much research or analysis. If you are a beginner, selecting the AWS Cloud Practitioner certification is best. If you have experience of a year or two, you can opt for AWS Solution Architect, SysOps Certification, or Cloud developer certification. Developers with more than two or three years of experience can easily try for professional-tier certifications. The AWS training academy provides Machine Learning, BigData, Security, and Alexa as specializations. All these certifications are also a part of advanced networking and skill building.
Advantages of getting AWS certified
The following statements driven from statistics are the benefits of the AWS certification course for your career. The AWS academy offers certifications for technology freaks and provides free and paid training separately for each specialization. AWS Careers are at their peak nowadays, so it is always a boon for the ones that choose AWS or who are already a part of Amazon and its services. Once you have this valuable certification, it's an eye-catching credential for hirers to have you onboard.
Building a career with AWS
To get advanced in this particular technology, you must first know where you are going. The next step is to choose the right specialization according to your experience level or to meet your interests. If you are already a pro developer, you can take the exam without hard preparations, but if you are a complete fresher at cloud computing, you need to learn a lot before attending the exam. It's easy for all the developers who know to do things and can also implement them in a theoretical format. To experience that, you have exclusive virtual AWS platforms to practice and test yourself.
AWS issues 11 major certifications under four main categories. All the following certifications come under the major services of AWS careers:
1. Foundational Level (Beginner)
2. Associate Level (Intermediate)
3. Professional Level (High)
4. Specialization Level (Advanced)
For a sense of completeness, you must present this certificate with a good and decent resume. Showcase your full and true knowledge at the interview. This is a clear and straightforward path to ace the certification. The certificate gets more valuable when you present your knowledge theoretically and practically. The future of cloud computing with AWS will always stand by your side. It will never disappoint any developers in the technology industry as the AWS platform is larger than any other popular platform.