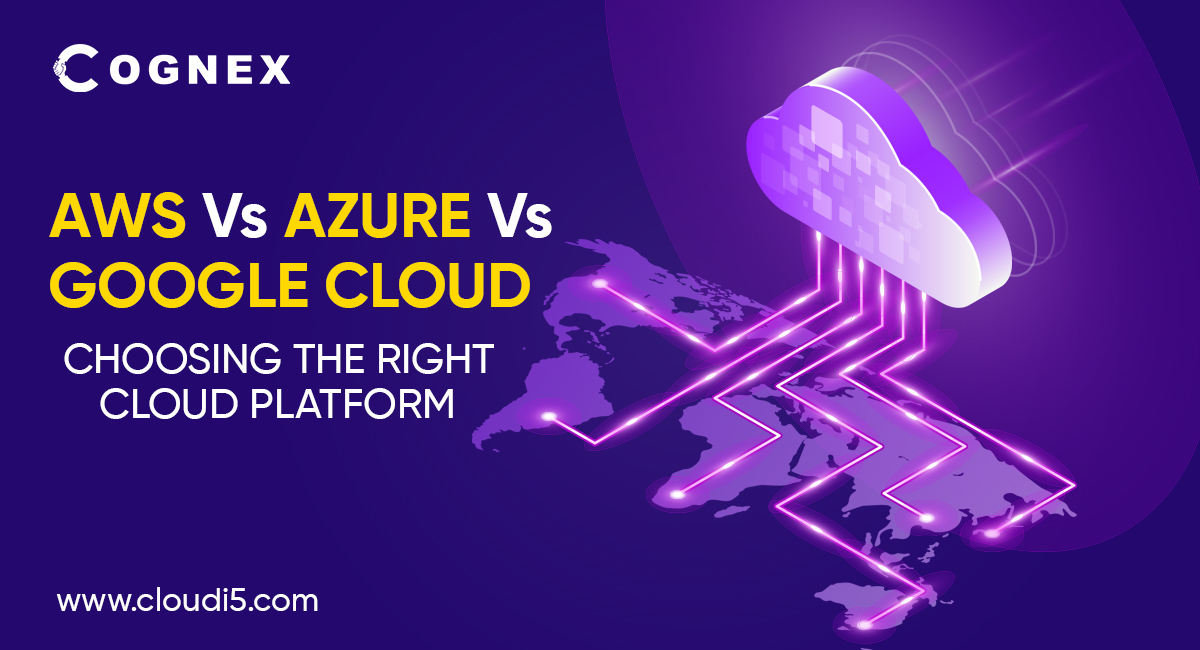 AWS Vs Azure Vs Google Cloud: Choosing The Right Cloud Platform
Cloud computing has leveraged software development companies by providing more ease of access to the company data. There always arises a doubt about which cloud platform to choose. The top cloud platforms are AWS, Azure, and Google Cloud. They always gain an important place in every company choice because they three are always trustworthy from the highest renowned companies. Even though they provide the same features, they are different in a few aspects, which tell their efficiency. The main difference lies in certifications, training programs, and cost.
Amazon Web Services (AWS)
AWS is a leading cloud platform from Amazon and its services. They almost provide services in all organizations, from individuals to governments. AWS was initially believed to be an internal platform for developers, and in the year 2006, the service became globally available to all organizations. Through many innovations, they started AWS Certifications, AWS free and paid pieces of training for students and as well as for developers. The certifications range from the Beginner level to the professional expert level. They now have prominent features like Amazon S3, Amazon Elastic, AI & ML Services, and more. The future of cloud computing with AWS is very bright, obviously because of the prevailing rise in demand for AWS developers. AWS has many features increase the organization's scalability, reliability, and efficiency. Netflix, Coursera, Coinbase, Coca Cola are the main customers of this service.
Microsoft Azure
Microsoft Azure is the second leading provider of cloud computing services. Azure was first launched in the year of 2010. With its fast-growing functionality, it has now adopted 250 + useful features recently. Azure is mainly meant for Microsoft- based companies that require hybrid cloud-based platforms and can also provide multi-cloud-based environments.
AWS vs Azure validating career opportunities in cloud platforms include many job offerings from beginner and associate to expert levels. One can easily choose AWS or Azure for their career for a deterministic future. Starbucks, Renault, and Mitsubishi Electronics are the main customers of the Microsoft Azure cloud platform. Azure Fundamentals, Azure AI Engineer, Azure SAP Workloads, and Azure Solutions Architect are the top-rated certification offered by Azure.
Google Cloud Platform
GCP (Google Cloud Platform) is a renowned cloud service provided by Google. The GCP is a unit of overarching Google and its services. Similar to Azure, the GCP was released in the year of 2010. The Google Cloud Platform can offer 100+ cloud services to global companies. Azure is dominant when we come to the comparison of Azure vs Google Cloud. Regarding the comparison of AWS vs Azure vs Google Cloud, Google Cloud is the smallest service provider. Google cloud is mainly helpful for networking services, Big data analytics, AI, Data Science, and Security facilities. Even though the platform is small, it can offer complete customer assistance. Google cloud platform also provides many certifications. Google Solutions Architect and Cloud Fundamentals are some top-rated courses in the market. Android, Chrome OS, and Google Workspace are a few of the majorly used best services of the Google Cloud Platform. Toyota, Unilever, Spotify, Twitter, Paypal, and UPS are the top customers of Google cloud.
Individuals may get confused about choosing the right career path for their life, but selecting any of these might surely help them design the best technical future. Instead of comparisons, one can choose the right technology according to their interests and ease of computation. Selecting any of these three will not be misleading, as there are rapidly increasing career opportunities and vacancies in cloud computing.