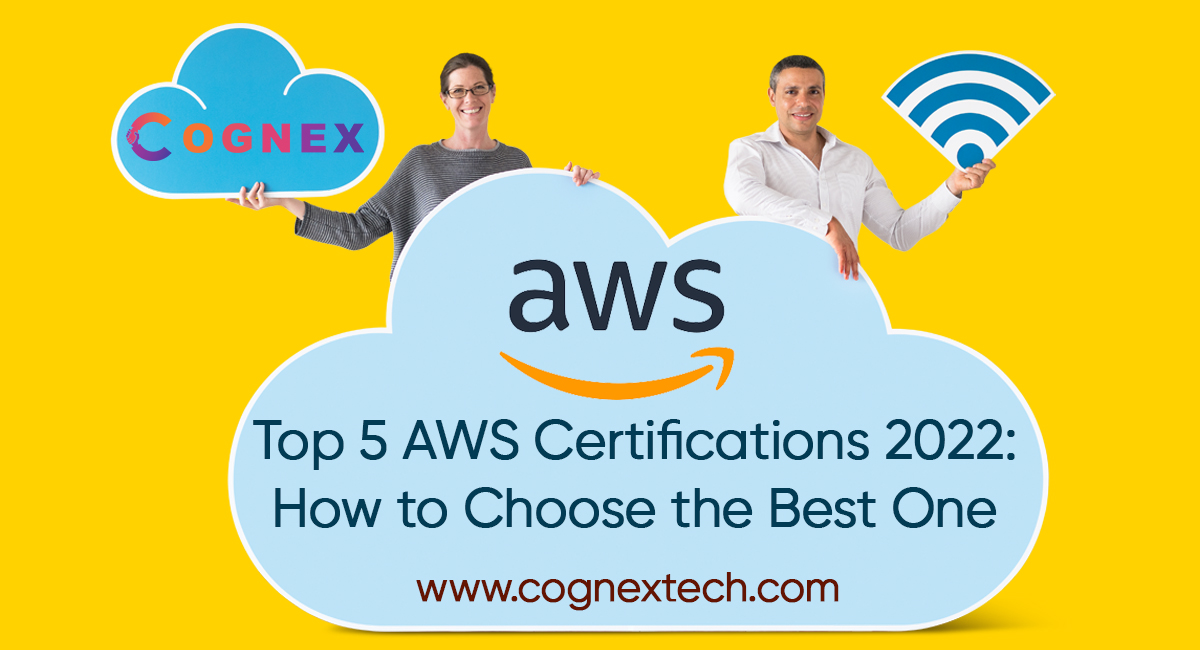 Top 5 AWS Certifications 2022: How To Choose The Best One
The best AWS certificates course can help cloud professionals get raises and well-paying IT jobs. They also cover a wide range of topics and ensure that certificate holders learn a lot about certain parts of cloud computing.
Why do you need to be AWS Certified?
Professionals who are just starting in cloud computing or want to add cloud skills to their resumes may be curious. There are a lot of competitors, such as Microsoft and Google, which are growing faster than expected. AWS is the "God of the Cloud," and many organizations, like Airbnb, Adobe, the Met Office, BMW, etc. AWS certifications are the appropriate way to go if you wish to be a specialist on a specific cloud platform.
Different kinds of AWS Certificates
AWS has 11 certifications divided into four levels: foundational, associate, professional, and speciality. Certified Cloud Practitioner is the only foundational certification that AWS gives out. AWS recommends this certification for professionals who have been using AWS for at least six months in a technical or non-technical role.
· AWS Certified Cloud Practitioner (CLF-C01)
· AWS Certified Developer – Associate (DVA-C01)
· AWS Certified SysOps Administrator – Associate (SOA-C02)
· AWS Certified Solutions Architect – Associate (SAA-C02)
· AWS Certified DevOps Engineer – Professional (DOP-C01)
· AWS Certified Solutions Architect – Professional (SAP-C01)
· AWS Certified Advanced Networking – Specialty (ANS-C00)
· AWS Certified Security – Specialty (SCS-C01)
· AWS Certified Machine Learning – Specialty (MLS-C01)
· AWS Certified Database – Specialty (DBS-C01)
· AWS Certified Data Analytics – Specialty (DAS-C01)
Top 5 AWS certifications for 2022
AWS Cloud Practitioner Certified
The AWS Certified Cloud Practitioner is an entry-level certification that checks how well a candidate understands the AWS cloud.
Advanced students earn two professional certifications and 5 speciality certifications. You need to have used AWS cloud computing for at least 2 years for these certifications.
Associate in AWS Certified Solutions Architect (SAA-C02)
The AWS Certified Solutions Architect – Associate exam is designed for people who have some experience developing distributed applications. Candidates will have to show that they can use tools and services on the AWS platform to create, manage, and implement applications. In August 2022, this exam will be updated to include more AWS services and best practices.
The Associate level of AWS Certified Developer
The AWS Certified Developer – Associate exam is about making and taking care of AWS-based applications. To use AWS applications from within your custom business applications, you will need to know how to write code that uses AWS software.
Specialized AWS Certified Database
Specialty certification shows that you have a general understanding of all the AWS database services and the know-how to add value to your business by integrating and architecting databases in the best way possible. This test is for people working with databases and putting DB solutions into action. Candidates should have worked with AWS Cloud-based and on-premises relational and NoSQL databases for at least two years.
Speciality: AWS Certified Machine Learning
Speciality certification validates your knowledge in designing, implementing, and maintaining machine learning solutions for various business challenges. Anyone who works in development or data science should take this test, and candidates should have used ML and deep learning on the AWS Cloud for two years.
How to choose the right AWS course ?
IT professionals who got new AWS certifications path got a raise on average, and many of them also said they did their jobs better and had more job opportunities. An AWS certificate might not be enough to get you hired on its own, but IT companies value AWS certifications path, AWS course could be the right for your career growth.
The best way to choose an AWS certification course is to look at how well it helps you reach your career goals. Think about how hard each exam is because you may be able to move up in your career just as well with a certification exam that is easier to pass than one that is harder.
If you're just getting started with AWS, find out which AWS certifications courses are the most in-demand right now and compare the salaries of people who have those certifications.