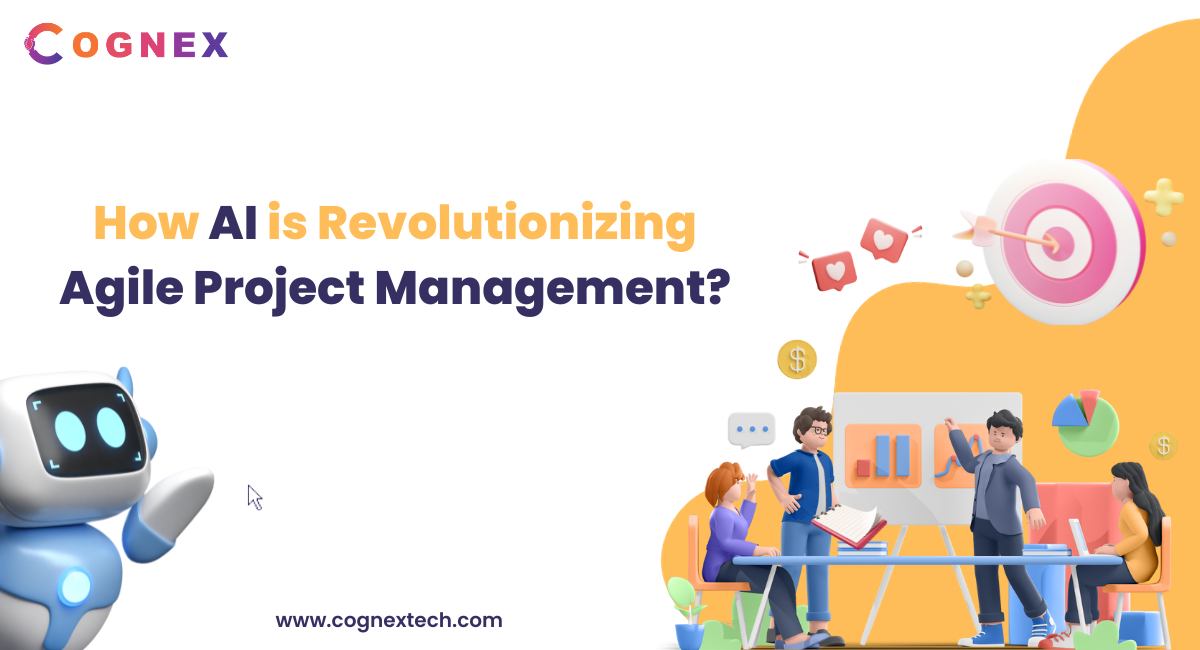 How AI Is Revolutionizing Agile Project Management?
Hey there, tech enthusiasts and project pros! Imagine this: Agile Project Management and AI walk into a bar. Sounds like the start of a joke, right? Well, it's not! Brace yourselves for the tech-savvy comedy where algorithms and Agile collide, proving that managing projects can be both a hoot and high-tech. Buckle up, because in this blog, we're decoding the hilarious, yet utterly brilliant, love affair between AI and Agile.
Get ready to LOL your way through the future of project management!
AI and Agile Project Management are a match made in heaven. Agile is all about speed, flexibility, and collaboration, while AI is a master of automation, data analysis, and decision-making.
Together, they're creating a new revolution in agile project management, where teams can automate normal tasks, make better decisions faster, and deliver high-quality products on time and within budget. It's a symphony of human ingenuity and machine precision, and it's transforming the way we work.
AI Revolutionizing Agile
AI is transforming agile project management in a number of ways, including:
1. Intelligent Task Allocation:
One of the significant challenges in agile project management has always been the effective allocation of tasks. AI steps in as the ultimate problem solver, employing machine learning algorithms to analyze historical data, team capabilities, and project requirements. This intelligent task allocation not only maximizes team efficiency but also ensures tasks align with individual strengths.
The result is a streamlined workflow where every team member operates at their optimal potential, contributing significantly to project success.
2. Predictive Analysis and Proactive Decision-Making:
AI's predictive analysis capabilities allow agile project managers to see into the future. By processing large amounts of data, AI algorithms can identify potential problems and opportunities before they happen. This enables agile project managers to make proactive decisions, allocate resources more effectively, and develop better strategies.
Instead of reacting to problems as they arise, agile project managers can now use AI to anticipate and prevent them. This reduces risks, improves project resilience, and helps teams deliver projects on time and within budget.
3. Enhanced Communication through AI-Powered Chatbots:
Communication breakdowns are a major cause of project failure. AI-powered chatbots can help to prevent this by facilitating seamless communication among team members. These bots can provide real-time updates, answer questions quickly, and even offer relevant resources to ensure that everyone is on the same page.
With clear and efficient communication channels, misunderstandings are minimized, collaboration is improved, and project progress is uninterrupted.
4. Real-time Progress Monitoring and Transparency:
Real-time progress monitoring is the backbone of Agile methodologies. AI technologies provide instant access to project metrics, task completion rates, and performance data. This transparency not only empowers project managers with accurate insights but also motivates team members. They can visualize their contributions in real-time, fostering a sense of ownership and accountability. Transparent progress tracking ensures projects stay on course, allowing for timely adjustments if deviations occur.
5. Agile Financial Planning and Optimization:
Budget management is crucial for project success. AI algorithms can analyze financial data in detail, forecasting expenses and identifying opportunities to save money. This data-driven financial planning optimizes resource allocation, ensures that projects stay within budget, and minimizes financial risks. By integrating AI into financial aspects, project managers can make strategic decisions that guarantee the long-term sustainability of their projects.
AI is transforming Agile project management from mere management to orchestration with precision and innovation. In this journey, the Agile Scrum Master plays a pivotal role as the linchpin, leveraging AI's power to lead teams to unparalleled success, ensuring projects adhere to Agile principles while harnessing the full potential of Artificial Intelligence.
Here are some specific examples of how AI is being used in agile project management today:
Sprint Planning:
In Agile, sprint planning is the linchpin that sets the tone for the entire development cycle. AI algorithms analyze vast amounts of historical data, considering factors like team velocity, past sprint successes, and potential bottlenecks. By identifying patterns and trends within this data, AI assists teams in estimating their workload more accurately. This data-driven approach enables teams to set realistic goals for each sprint, ensuring that tasks are neither overwhelming nor underwhelming.
The result? A well-balanced sprint that maximizes productivity while maintaining team morale.
Risk Management:
Identifying and mitigating risks is essential for successful project management. AI, with its powerful predictive analysis capabilities, can scan through a vast amount of project-related data, including historical project data and external factors, to identify potential risks and recommend tailored mitigation strategies. This proactive approach allows teams to anticipate and address challenges before they escalate, ensuring effective risk management.
As a result, projects are not only protected from potential threats, but also equipped to navigate uncertainties with confidence.
Quality Assurance:
Ensuring the quality of software products is a top priority in Agile development. AI-powered tools are transforming the landscape of quality assurance by automating testing processes. Machine learning algorithms analyze patterns in testing data, identifying potential areas prone to defects. Automated testing not only saves time but also enhances accuracy, ensuring that defects are caught early in the development cycle. This early detection leads to swift remediation, resulting in high-quality software products that meet customer expectations.
Continuous Integration and Continuous Delivery (CI/CD):
Continuous integration and continuous delivery (CI/CD) are the lifeblood of Agile development, allowing teams to deliver high-quality software quickly and reliably. AI is streamlining this process even further. Machine learning algorithms analyze historical data from past CI/CD cycles to identify bottlenecks and areas for improvement.
By predicting potential problems and automating error resolution, AI ensures a smooth flow through the CI/CD pipeline. This automation not only speeds up the delivery process, but also improves the reliability of software releases.
The result is a more agile development pipeline that delivers software with speed, precision, and unparalleled reliability.
Benefits of using AI in Agile Project Management
1. Increased Efficiency:
AI automates repetitive tasks, freeing up time for strategic activities. By ensuring consistency and minimizing errors, teams operate more efficiently, achieving tasks faster and with precision. Automation also enables a seamless workflow, reducing delays and boosting overall productivity.
2. Improved Quality:
AI-powered tools analyze data to identify patterns and predict defects early in the development process. By addressing issues promptly, teams ensure the production of high-quality, bug-free software. Comprehensive testing scenarios conducted by AI result in robust products that meet or exceed customer expectations, enhancing the team's reputation and customer satisfaction.
3. Reduced Costs:
AI optimizes resource allocation by analyzing project data and identifying wastage. It recommends efficient allocation strategies, ensuring tasks align with team members' expertise and availability. By cutting unnecessary expenses and reducing inefficiencies, AI-driven cost reductions enhance the project's financial sustainability, allowing resources to be redirected toward strategic initiatives.
4. Increased Customer Satisfaction:
AI's efficiency, improved product quality, and reduced costs translate to timely deliveries of high-quality products within budget. Meeting or exceeding customer expectations becomes the norm, significantly enhancing customer satisfaction. Reliable deliveries build trust, boosting the organization's reputation and customer loyalty, leading to sustained success.
Overall, AI is revolutionizing agile project management by helping teams to be more efficient, effective, and customer-centric.
Tips for Implementing AI in your Agile Project Management Team
1. Start Small:
Begin with a few specific tasks where AI can make a significant impact. Starting small allows for a smoother transition and helps your team adapt gradually to new technologies.
2. Choose the Right Tools:
Select AI-powered tools tailored for Agile teams. Ensure they align with your project management needs, integrate seamlessly with existing systems, and are user-friendly for efficient adoption.
3. Train Your Team:
Provide comprehensive training to familiarize your team with the selected AI solutions. Equip them with the skills needed to maximize AI benefits, addressing any concerns and ensuring a confident, unified adoption.
4. Monitor Progress:
Regularly monitor key metrics post-implementation to assess AI's impact on task completion, accuracy, and efficiency. Use this data to make necessary adjustments, ensuring continual improvement in your team's productivity and adaptability.
By following these tips, you can successfully implement AI in your agile project management team and reap the many benefits that it has to offer.
Conclusion
Agile Project Management has undergone a revolution brought on by AI that goes beyond simple technology change and represents a shift in how we see productivity and labor. It serves as evidence of the seemingly endless possibilities that result from the marriage of human ingenuity with artificial intelligence. Let's adopt the AI-powered Agile revolution as we go into the future, when projects are not simply managed but also expertly staged with a dash of technological wonder. Welcome to the workplace of the future, where artificial intelligence and agile thinking go hand in hand.
If you want to learn more about becoming an Agile Scrum Master and harnessing the power of AI to transform your team's performance, join us today!
"Agile Project Management met AI, and now they're inseparable. It's like peanut butter and jelly, but for productivity!"