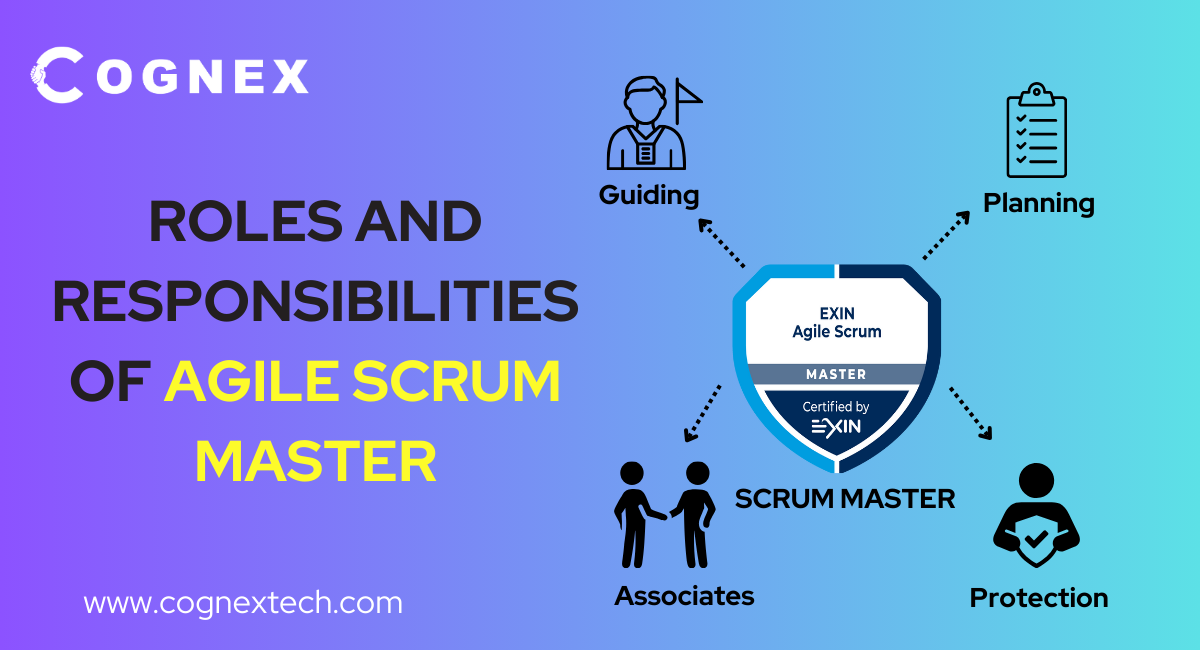 The Role Of An Agile Scrum Master: Responsibilities And Key Functions
In today's fast-paced and competitive business world, the Agile Scrum approach has grown in popularity as a means of effectively delivering complex software projects.
This position is critical to the productivity and effectiveness of teams working in agile development environments.
What Is An Agile Scrum Master?
An Agile Scrum master is an experienced facilitator and coach who is in charge of handling the Team and helping them understand and apply the Scrum Framework. In addition, they remove any obstacles that prevent the Team from being successful.
Everything about Scrum Master can be found here.
What Are Agile Methodologies?
Agile Methodologies are a set of practices in project management that stress flexibility and adaptability. They are commonly employed in software development, although they can be utilized in any project.
What Does A Scrum Master Do?
Scrum master ensures that the Team understands and follows the Scrum Framework. In this, they explain the roles and responsibilities of each team member.
Scrum Master Responsibilities:
Scrum master roles and responsibilities are listed below-
The Scrum master's role is to guide the Team on Agile principles and practices. This involves helping the Team to understand the values of agility, such as teamwork, communication, and continuous upgrading.
Taking out the barriers to the Team's progress- This includes recognizing and resolving any difficulties that are impeding the Team's effectiveness, such as technological issues, a lack of resources, or unrealistic expectations.
Facilitating Scrum events- This involves leading the daily stand-up meeting, Sprint planning meetings, sprint reviews, and sprint retrospectives.
Scrum Master guides the Team to find their own way of working and helps them to make a decision which is best for them.
The Scrum Master embodies the Scrum values and principles and sets the tone for the Team.
The Scrum Master serves as an associate between the Team and other stakeholders such as the product owner, development manager, and customer.
Encouraging constant development- The Scrum master helps the Team to recognize and inform them where improvements need to be made and to learn from their mistakes.
Becoming a Scrum Master is an excellent method to learn about Agile project management while also assisting teams in delivering high-quality products on time and under budget.
The accountability of the Scrum Master will differ depending on the organization and Team. However, the above are some frequent areas of accountability.
What Is CMS Certification?
A CMS certification is a certification provided by the Scrum Alliance that explains the understanding of Scrum concepts and principles. It is one of the world's most popular Scrum certifications.
The CMS certification exam is based on the Scrum guide.
This certification consists of the following topics:
The Scrum Framework
The roles and responsibilities of Scrum
The events and artifacts of Scrum
The principle of Scrum
Listed below are some benefits of getting Scrum Certification:
Revealing your knowledge about Scrum to potential employers.
Growing your chances at getting a job as a Scrum Master.
Learn from expert Scrum practitioners.
You can associate with other Scrum professionals.
Stay up-to-date on the latest Scrum practices.
How To Become Scrum Master:
Becoming a Scrum Master includes a combination of education, training, practical experience, and certification. Below is a guide for you on How to become a Scrum Master.
Gain an understanding of Scrum- The first step here is to learn about Scrum, which includes understanding the Scrum framework and the role and responsibilities of the Scrum Master. Books, articles, and online courses are among the many resources available to help you learn about Scrum.
Get certified- There are many Scrum Master Certifications available, such as Certified Crum Master (CMS) and Professional Scrum Master (PMS). Obtaining certification is an excellent method to demonstrate your expertise in Scrum and increase your chances of landing a job as a Scrum Master.
Gain Experience- It is important to gain experience to become a Scrum Master. You can do this by volunteering to assist a Scrum team or by working as a Scrum Master.
Connect with other Scrum Masters- Connecting with other scrum masters is an excellent approach to learn from their experiences and receive guidance on how to become a scrum master.
Become a Guide- Once you've gained some Scrum Master experience, you can become a mentor to help others learn about Scrum. This will help others on their journey to become successful Scrum Master.
CMS Certified:
The term "CMS certified" refers to a variety of certifications. Here are a few of the most common:
Certified Scrum Master (CMS) - This is a certificate provided by the Scrum Alliance that verifies and explains the Scrum concepts and Principles.
Professional Scrum Master (PMS) - PSM is a more advanced certification offered by Scrum.org that certifies the ability to use Scrum in a real-world scenario. The PSM has many levels like PSM l, PSM ll and PSM lll.
Certified Product Owner (CPO) - This is a certification provided by Scrum Alliance that verifies the understanding of the product owner's role in Scrum.
Certified Scrum Developer (CSD) - The Scrum Alliance offers this certification to demonstrate awareness of the development team function in Scrum.
The certified Scrum Master Cost varies according to the provider. The certified Scrum master cost also includes the Scrum Guide, which is the official Scrum guide. The Scrum Guide is free to download. However, the provider may charge a price for the electronic edition. The specific necessities of each certification may vary. However, they all demand some Scrum experience as well as the ability to pass a certification exam.
Top SAFe Scrum Master:
The Scaled Agile Framework (SAFe) is an enterprise agile framework that enables enterprises to produce benefits more quickly and predictably.
Here are some of the best top Scrum Masters in SAFe:
Ken Schwaber- Ken Schwaber is a Scrum co-creator and co-author of the Scrum Guide. He is a frequent Scrum and Agile speaker and trainer.
Mike Cohn- Mike Cohn is a recognized authority on Agile software development. He has written several Agile books, including "Agile Estimating and Planning" and "Succeeding with Agile."
Vince Paniagua- Vince Paniagua is a certified SAFe Program Consultant (SPC) as well as a certified Scrum Master (CSM). He is the author of "SAFe 4.0 in Action."
Liz Seidel- Liz Seidel is a Scrum Master (CSM) and a trained SAFe Program Consultant (SPC). She's the author of "SAFe 4.0 for Teams."
In Summary, a SAFe Scrum Master is important to establishing and sustaining Agile methods at scale inside a SAFe-compliant firm. They are in charge of coaching teams, removing barriers, and cultivating a culture of continuous improvement to support successful Agile transformations and the delivery of value to consumers.
Conclusion:
The Scrum Master's role is to contribute to facilitating collaboration, promoting a culture of continuous development and assisting the Scrum team in delivering high-quality products or services. They are essential in guiding and supporting the Team in their Agile journey.