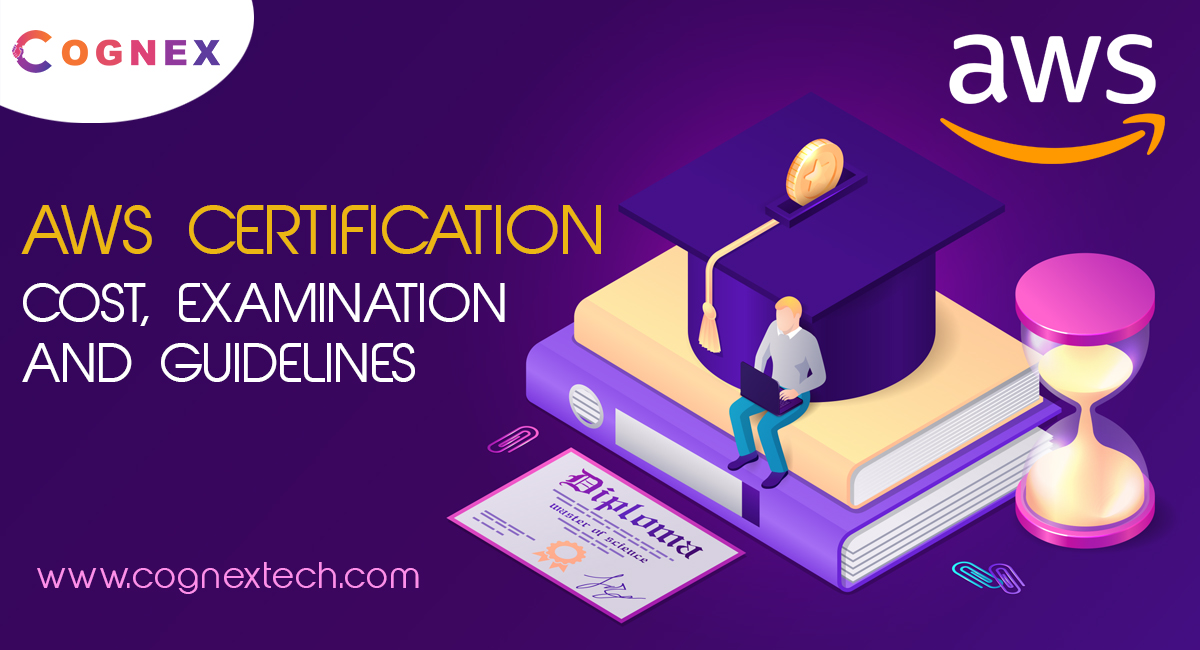 AWS Certification Cost, Examination, And Guidelines
AWS is a cloud technology powered by Amazon. There are a couple of objectives you should go for AWS certifications. The foremost is that almost all businesses use IT certifications as an easy way to shortlist job applicants. The second is that IT corporates require at least a few certifications to retain partnerships and acquire support.
AWS TRAINING CERTIFICATIONS:
AWS certification corroborates the cloud proficiency of professionals and gives roles to the members who have done the courses. AWS certifications help to emphasize the cutting-edge skills of professionals.
One can choose from various AWS certification exams. Based on the specialization, certification will help to excel in positions that pay high.
AWS certifications are categorized into two:
Core Certifications
Speciality Certifications
The Core Certifications can be further sub-divided into three tracks:
Architecture
Development
Operations
AWS CERTIFICATION
Prerequisites
There are not any major prerequisites to attend any AWS Exam. However, AWS suggests doing prior hands-on sessions with their training. AWS also offers a few free and paid training courses to attend each examination confidently.
Members under the age of 17 are only allowed to write the examination if proper permission is obtained from parents or legal advisors.
Exam Format
There are mainly two categories of questions present:
Multiple-choice - Choose one correct option from four
Multiple selections and choices - Choose one or more options from the given alternatives.
There is no partial credit available for the unanswered questions, and all the unanswered questions will be considered incorrect only.
Exam Duration
The exam comprises 65 questions that follow the pattern mentioned above. The total examination time is 130 minutes.
Exam Language
The default medium for the examination is English. It is suggested to apply for a request to attend the test in a different medium of language. You must use an ESL+30 request before the examination.
AWS CERTIFICATION COSTS
The below table shows the average and internationally accepted cost for doing various AWS Certifications.
| | |
| --- | --- |
| EXAMINATION | COST |
| Cloud Practitioner (Foundational) | $100 |
| Associate Level | $150 |
| Professional | $300 |
| Speciality | $300 |
AWS SALARY TO EXPECT IN INDIA:
The average salary for an AWS professional in India is 5 Lakhs per annum (?41.7k per month). An AWS beginner can obtain an annual package of 4.5 Lakhs after doing any one certification. A mid-level AWS associate with 4-9 years of work experience receives an average salary of ?6.5 Lakhs per year, whereas a Senior AWS speciality Professional with 10-18 years of experience gets an average pay of ?11.% Lakhs per annum. After doing at least one certification, one can get confidence in the AWS salary to expect in India.
AWS salaries offered by some major companies are listed below:
Microsoft – $160,450
Teradata – $142.945
Amazon – $140,000
Deloitte – $115,000
Microsoft Cloud Engineer – $114,980
VALUE AND SCOPE OF AN AWS PROFESSIONAL TRAINING AND CERTIFICATE:
As cloud technologies continue to leverage businesses quickly, companies need cloud expertise professionals to meet their targets. According to a survey statistics from Research 451, there's a terrible talent shortage with the necessary and expected cloud skills. Managers and HRs are facing problems in shortlisting candidates. As the skills are in need, the more is the workload for other workers, giving them overloaded data to deal. This condition is always in an indirect variation.
So, AWS officially launched the pieces of training and moderately solvable certifications to make recruitment easier. These specialization certifications pave a great path to getting a job quickly without any stress, and it also adds valuable credit to your technical career. Many unmentioned partner benefits give you more value and scope of an AWS Certificate, which is accurately the aim of doing an AWS Training and Certification.
Get in touch with us to learn more about this and get the best AWS training institute in Chennai.