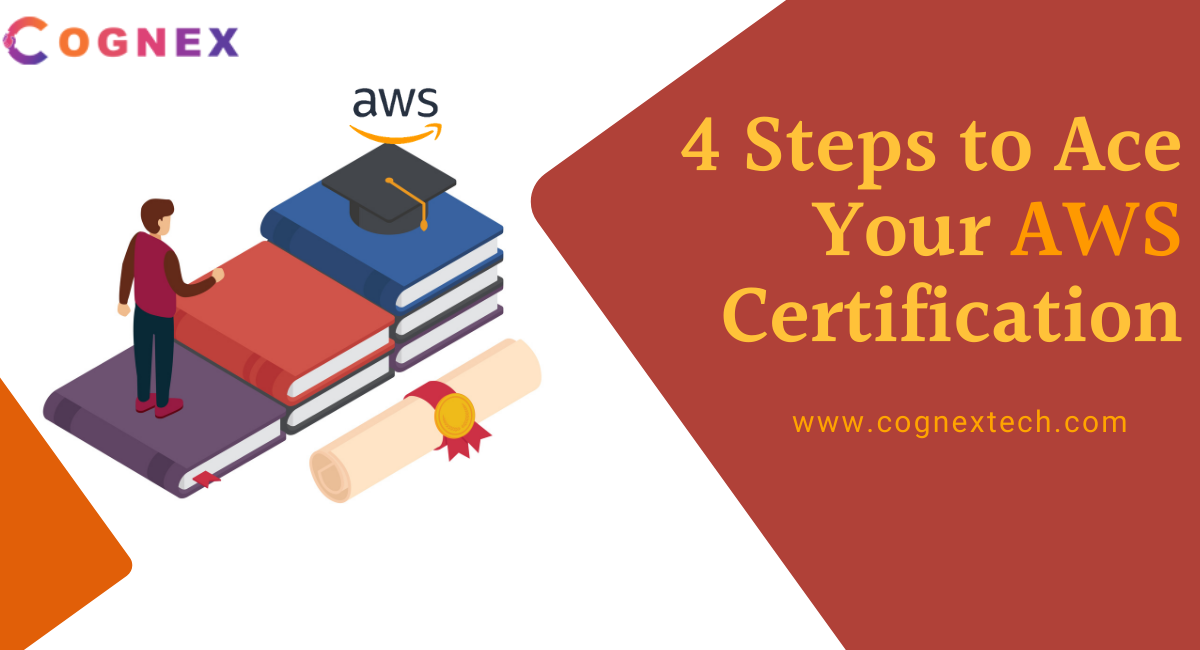 4 Steps To Ace Your AWS Certification
The demand for cloud computing services is facing an unprecedented rise and so is the demand for qualified cloud professionals. Cloud computing and particularly Amazon Web Services (AWS) has gained prominence and offers highly promising career opportunities. AWS is a smart selection to grow your cloud skills.
IT professionals are on a spree to skill, upskill and reskill themselves with competencies and capabilities that are demanded in the cloud computing industry. Below listed are 5 easy-peasy steps that may help AWS aspirants ace the AWS certification exam and get kick off into a cloud computing career.
List down your goals and objectives
The first and the most important step to achieve success in a course is to set your goals. Build a roadmap based on your intent. Analyze as to why you are interested in earning a particular AWS certification and what are the benefits you may avail of, from obtaining the certification. Find out if there are any prerequisites as some advanced-level courses require foundational level knowledge, on-field experience, and expertise.
Choose a level that matches your goal
If you hold a foundational level of expertise and experience of working in the cloud computing industry you may consider skipping those basic, foundational courses and move ahead to ace the associate level exams including AWS Certified Solutions Architect Associate or AWS Certified Developer Associate. You may also directly move ahead to
Otherwise, if you are a fresher in the cloud computing industry, you should start from courses like AWS Cloud Practitioner. Knowledge and training in non-AWS competencies like Linux, automation tools, high-level programming languages, etc. are also required for some courses. Choose the right course that matches your objective and skills.
Prepare a schedule and choose a training course
If you are preparing on your own, prepare a schedule well in advance, and make sure that you follow the same. The best option is to choose an AWS training course and gain expertise from industry practitioners. A plethora of courses and AWS training academies are available in the market. Choose an AWS training course that you think has the potential to impart the expertise you may need to achieve your objective. While choosing an AWS training course, look for flexibility and personalization in terms of timing and course curriculum.
Analyze the credibility of the AWS training course, and take a look at the reviews and the success metrics- the number of aspirants who opted for the course, and the number of aspirants who passed the exam, etc. Check if they are up to date, for AWS training courses and requirements change frequently as and when the industry demands. Also, check if the AWS training courses are capable of imparting both conceptual training and practical exposure.
Take up mock exams
Taking up mock exams would help you in understanding the exact level of knowledge you possess. Such exams may help you familiarize yourself with the actual AWS certification exams and they also help you improve your speed. Attending and acing more mock exams may boost your confidence. While taking up such exams, make sure that they match closely with the actual exam in terms of style and level of difficulty. Choose a course and exam that provides an in-depth assessment of your skills and one that provides a detailed, comprehensive explanation of the incorrect answers in the mock exam. As AWS certification costs are high ranging from $100 to $300, taking up more exams and improving your exam-readiness gains a higher salience.
Got more questions? Contact our experts at Cognex Tech. We are more than happy to answer your questions and accelerate your transformation.
Kick-off your cloud computing journey with Cognex tech and acquire AWS certification at a reasonable cost!