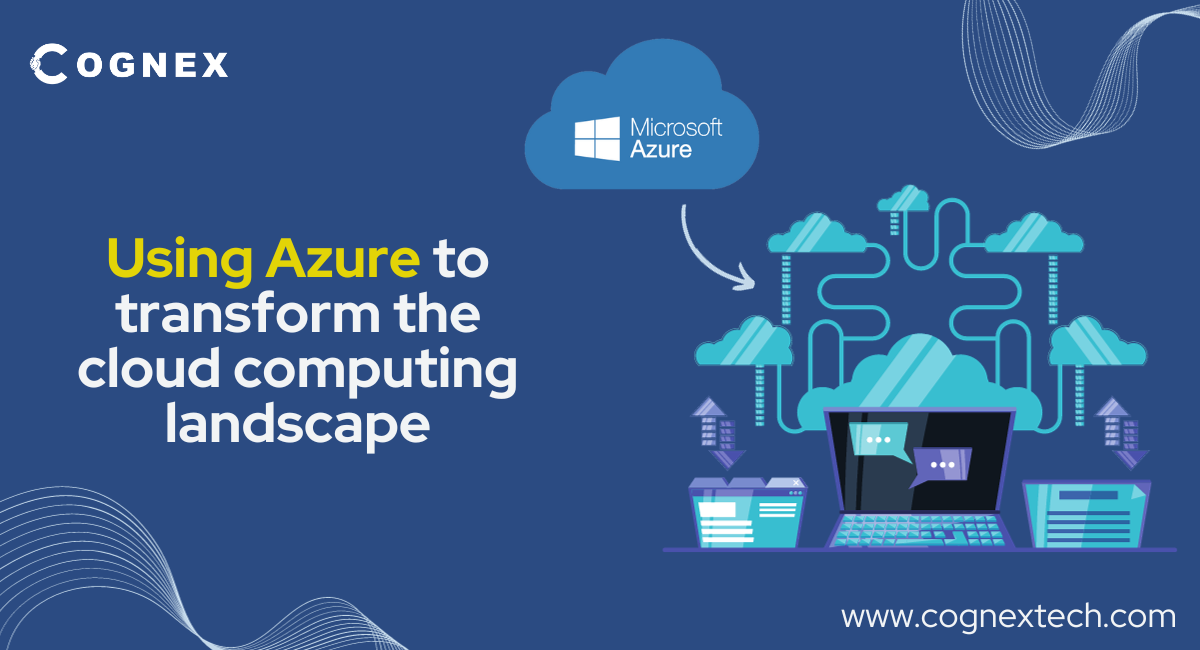 Transforming The Landscape Of Cloud Computing Using Azure
Cloud computing has emerged as the fundamental principle of efficiency and innovation for businesses and organizations worldwide in the digital age. The capacity to securely, economically, and scalable store, handle, and analyze enormous volumes of data has completely changed how we live and work in today's networked world. Leading this revolutionary scene is Microsoft Azure, a cloud computing platform that has been redefining the fundamentals of our approach to meeting our IT requirements. Microsoft Azure provides a vast array of services to meet diverse demands related to networking, computation, storage, and data. You can find Microsoft Azure's beginner guide to cloud computing here.
We will examine the various ways that Microsoft Azure is driving this change and enabling companies to reach new levels of technological proficiency, efficiency, and agility in this investigation.
The Evolution of Cloud Computing:
The development and history of cloud computing have been a revolution, radically changing how individuals and corporations utilize and manage technology. The idea of "utility computing," which would enable consumers to access computer resources as readily as they would electricity or water, was first conceived by computer scientists and engineers in the 1950s. This is where cloud computing got its start. However, cloud computing as we know it began to take shape in the late 1990s and early 2000s.
With major companies like Microsoft Azure, Google Cloud, and IBM Cloud alongside AWS, each providing a wide range of services, cloud computing has developed into a complicated ecosystem today. Cloud computing is now a platform that offers various services, including artificial intelligence, machine learning, data analytics, and more, rather than just being a storage and infrastructure solution. This evolution will play an even more significant part in our technological future as it continues to transform our concept of IT.
Microsoft Azure- An Overview:
Microsoft Azure, sometimes just called Azure, is one of the company's top cloud computing platforms. Azure is a cloud computing powerhouse that serves a broad spectrum of businesses and organizations thanks to its extensive suite of services. Azure provides an extensive range of services, including databases, virtual machines, data analytics, Internet of Things (IoT) solutions, artificial intelligence (AI) machine learning tools, and more. Businesses can create, implement, and manage apps and services with unmatched flexibility and scalability thanks to our extensive range of offerings. A Microsoft Azure project called the Cloud Adoption Framework offers best practices, guidelines, and resources to assist enterprises in effectively organizing, carrying out, and overseeing their cloud adoption process.
Azure's importance is demonstrated by its global reach, with data centres placed strategically in more than 60 regions worldwide to guarantee dependable and low-latency access to cloud services for enterprises. In addition to enhancing performance, this vast network of data centres complies with strict security and compliance guidelines, making Azure a reliable option for companies looking to leverage the potential of the cloud.
Global Infrastructure:
The massive and well-located infrastructure that supports Microsoft Azure's infrastructure cloud services is part of the company's extraordinary worldwide network of data centres. Azure provides an unparalleled degree of accessibility and dependability, with data centres spread across more than 60 regions globally. Furthermore, Azure's data centres provide cutting-edge digital and physical security for sensitive data while adhering to strict security and compliance standards. Because this network is redundancy-built, high availability is guaranteed, which makes Azure a dependable option for companies looking for continuous service.
Microsoft Azure is determined to pursue worldwide expansion and is committed to providing cloud services prioritizing optimal performance, security, and scalability. As a result, it is influencing the trajectory of cloud computing. Artificial intelligence, machine learning, edge computing, and hybrid cloud solutions are all being advanced by Microsoft Azure's continued heavy investment in research and development. The platform keeps up with new developments in technology and market trends by continuously growing its ecosystem of products and services. The focus on sustainability reflects Microsoft's dedication to providing not only cutting-edge technology but also ethical and environmentally beneficial cloud solutions, and it also corresponds with the growing global awareness of environmental issues. For many years, Microsoft Azure will continue leading the way in cloud computing.
The future of cloud computing with Microsoft Azure:
Microsoft Azure cloud computing has an extremely bright future ahead of it, as the platform is positioned to have a significant influence on how technology develops.
The following vital characteristics highlight the promising opportunities:
1. Advanced AI and Machine Learning:
In machine learning and artificial intelligence, Microsoft Azure will remain at the forefront of technology. Businesses can leverage AI to acquire new insights, automate processes, and create more personalized user experiences with services like Azure Machine Learning and Azure Cognitive Services.
2. Edge Computing:
Azure is ideally positioned to lead edge computing, facilitating real-time analytics and processing near the data source. This is essential to ensure low latency and secure operations for applications such as autonomous systems and the Internet of Things.
3. Hybrid and Multi-Cloud Solutions:
Azure's dedication to multi-cloud and hybrid solutions will allow enterprises to operate workloads seamlessly on-premises and in the cloud. For example, Azure Arc enables resource management from a single control plane across several environments.
4. Blockchain and Decentralized Technologies:
Azure is also investigating decentralized and blockchain technologies, which have the potential to completely transform data security, financial services, and supply networks. Azure will likely offer robust infrastructure and tools for these technologies as they develop.
5. Security and Compliance:
Azure's environmental responsibility will be impacted by Microsoft's aggressive goal of achieving carbon neutrality by 2030. More environmentally friendly cloud services and solutions are to come.
6. Global Expansion:
Azure will keep expanding worldwide, bringing its services closer to clients and allowing more companies to use its technology and infrastructure.
7. Partnership and Ecosystem:
The platform's ongoing development and innovation will be aided by Microsoft Azure's robust alliances with other digital behemoths and a flourishing ecosystem of outside solutions.
In conclusion, state-of-the-art technology, a dedication to sustainability, and an emphasis on customer-centric solutions characterize cloud computing with Microsoft Azure.
Conclusion:
In conclusion, Microsoft Azure has had a genuinely astounding impact on the cloud computing market. Azure has become a force to be reckoned with, spearheading the movement to transform how companies and organizations handle their IT requirements. Businesses seeking to broaden their reach and provide excellent user experiences use it because of its vast worldwide network of data centres, guaranteeing low latency and dependable performance. Azure will continue to maintain its leading position in the digital age as it continues to push the envelope of what is feasible and give businesses the resources they require to prosper in this quickly evolving information and technology world.