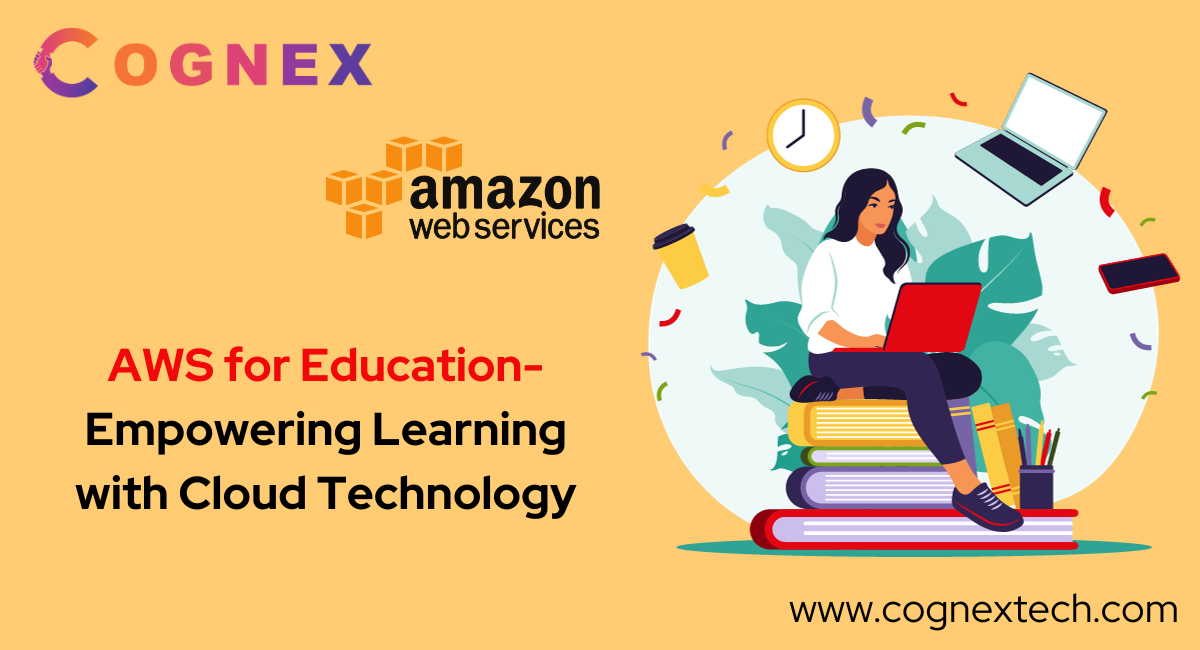 AWS For Education: Empowering Learning With Cloud Technology
Technology integration has become more than a trend in the ever-changing education environment—it's a revolutionary force impacting how we learn, teach, and engage with knowledge. This is the place to be if you're looking for a unique gift. AWS for Education empowers learning with unmatched flexibility, scalability, and innovation, not merely adopting the cloud.
In "AWS for Education: Empowering Learning with Cloud Technology," we set out to discover the value of cloud computing in educational contexts. AWS is more than simply a platform; it is a transformation agent, altering teaching approaches, boosting collaboration, and preparing students for a future in which digital fluency is essential.
The Role of Cloud Technology in Education:
Cloud technology plays a critical role in Education, bringing in a new era of flexibility, cooperation, and efficiency. Traditional educational models frequently need resource constraints, scalability concerns, and fixed infrastructures. Cloud technology, particularly platforms such as Amazon Web Services (AWS), addresses these problems by giving schools and institutions on-demand access to computing power, storage, and apps. The move to cloud services can be tricky since legacy systems might need to be compatible. Teachers used to traditional teaching methods must also overcome a learning curve and undergo extensive training to fully utilize cloud technologies. Security issues can also be a barrier, requiring solid data protection and compliance strategies, especially regarding sensitive student data. Budgetary restrictions might also be problematic because the initial outlay for cloud infrastructure can seem intimidating. If you want to learn more about cloud services courses, various courses and resources are available to help you comprehend the basics and build practical skills. There are some actions and resources to consider.
Because of its scalability and the inherent flexibility of cloud computing, education professionals may easily incorporate cutting-edge technologies into their lesson plans and adjust to changing pedagogical approaches. By removing geographical restrictions and promoting collaborative learning environments, the cloud makes it easier for people to access educational resources remotely. Additionally, cloud-based platforms frequently include sophisticated analytics capabilities that enable teachers to monitor student progress and customize instruction to meet individual requirements. Robust data protection procedures and compliance protocols are implemented to address security issues and foster confidence in securing sensitive information.
AWS Services Tailored for Education:
Amazon Web Services (AWS) provides a solid foundation to improve teaching, learning, and administrative tasks. It offers a comprehensive portfolio of services designed to address the specific demands of educational institutions. AWS for Education includes several benefits, such as Amazon RDS for dependable database administration, Amazon EC2 for adaptable and resizable processing resources, and Amazon S3 for scalable and safe storage of educational content. An interactive learning environment is promoted by AWS Educate, a specialized program that gives educators, institutions, and students access to cloud credits, training materials, and collaboration tools. Amazon WorkSpaces makes accessing educational resources virtually from any location easier, while AWS AppStream 2.0 makes it possible to distribute desktop apps to various devices. The Amazon Web Services (AWS) Management Console is a web-based interface that allows users to access and administer their AWS resources in a consolidated and user-friendly manner.
There are many advantages to educational institutions using Amazon Web Services (AWS) for storage, processing power, and other necessary resources. Amazon S3, a scalable and secure storage solution from AWS, guarantees that instructional content may be stored and retrieved with unmatched reliability in addition to being readily available. A comprehensive and interconnected ecosystem is further enhanced by the range of mastering AWS services, such as serverless computing offered by AWS Lambda and database management services provided by Amazon RDS.
AWS for Research and Development:
Amazon Web Services (AWS) offers a robust and adaptable cloud computing infrastructure, essential for progressing research projects in school environments. With its nearly limitless computational resources, AWS facilitates research initiatives by allowing scientists to process massive datasets, carry out intricate simulations, and perform potentially computationally demanding tests. Because of the cloud's on-demand scalability, researchers can adjust resource levels by project demands, doing away with the necessity for sizable upfront hardware purchases. Additionally, AWS provides a wide range of analytics and machine-learning capabilities that enable academics to extract valuable insights from their data.
In the field of research, Amazon Web Services (AWS) is a game-changer because of its unmatched scalability and flexibility for various projects in educational settings. Because of the elastic nature of the cloud, researchers can dynamically expand their computing resources to guarantee they have the capacity required for complex simulations, data analysis, and computations requiring a lot of help. This flexibility is especially helpful for projects with varying workloads since it allows researchers to ramp up during periods of high demand and ramp down during periods of low activity. With its wide range of services, including scalable storage options like Amazon S3 and processing capacity like Amazon EC2, AWS gives researchers a flexible toolkit to customize their infrastructure to the particular requirements of their work.
Cost-Effective Solutions for Educational Budgets:
Because Amazon Web Services offers pricing methods that easily accommodate educational institutions' budgetary limits, robust cloud computing is available without placing a heavy financial burden on them. AWS training and certification courses provide an organized and comprehensive approach for individuals looking to develop expertise in cloud computing through Amazon Web Services. With AWS's pay-as-you-go model, organizations may save upfront capital expenditures on hardware and infrastructure by only paying for the processing power, storage, and services they need. Budgets for schools benefit significantly from this flexibility since it allows institutions to adjust resources in response to demand, maximizing costs by project requirements. Furthermore, AWS offers a free tier with a consumption cap for numerous services, creating a risk-free environment for organizations to investigate and test out cloud solutions without paying a fee upfront.
Amazon Web Services (AWS) cost optimization entails strategic resource planning and use to guarantee optimal benefits within financial limitations. One important advice is to use the AWS Pricing Calculator to predict expenses based on specific usage patterns and requirements. It is crucial to comprehend how different services are priced and to choose the most economical solutions for data transfer, processing power, and storage. By implementing auto-scaling elements, resources can be dynamically adjusted based on demand, preventing needless expenses during low activity. Avoiding unnecessary costs can be achieved by routinely assessing and optimizing resource configurations, such as correctly sizing instances and reserving instances for predictable workloads. AWS Cost Explorer helps with cost optimization decision-making by offering comprehensive insights into spending trends. To further reduce overall costs, consider investigating Spot Instances for flexible, low-cost computing and using AWS's free tier offers.
Training and Certification Opportunities:
AWS provides extensive training and certification programs to help teachers and students become proficient in cloud computing. With the help of the AWS Educate initiative, teachers can better teach contemporary, in-demand skills by incorporating cloud technology into their curricula and earning credits along the way. Teachers have access to many educational resources, virtual classes, and practical laboratories to augment their comprehension of AWS services. AWS offers the AWS Academy, a course for students that aims to help them become proficient in cloud computing and prepare for the industry-recognized AWS Certifications. These credentials confirm a person's knowledge of cloud technologies and are highly respected in the IT sector, including AWS Certified Cloud Practitioner and AWS Certified Solutions Architect.
Developing your AWS abilities is a wise investment that will greatly impact your ability to advance in your profession. In the quickly changing world of technology, cloud computing is now the foundation for innovation in many different sectors. Learning to use Amazon Web Services (AWS) puts people at the forefront of this industrial revolution. Because AWS talents are both highly sought after and widely recognized, certified workers are in high demand among employers worldwide. With more and more businesses moving to the cloud, people with AWS expertise are in an excellent position to lead and participate in innovative projects.
Conclusion:
In Conclusion, AWS for Education is a dynamic force transforming the classroom environment by utilizing the revolutionary potential of cloud computing. As we've looked at all of the advantages—from extensive training programs to scalable infrastructure—it's clear that AWS is more than simply a platform; it's a catalyst for innovation in Education. By enabling collaboration, adaptability, and efficiency, the integration of AWS into educational institutions helps teachers and students negotiate the difficulties of the digital era. As a result of the cloud's capacity to address conventional issues like scalability, security, and resource limitations, the educational ecosystem is becoming more connected and flexible.