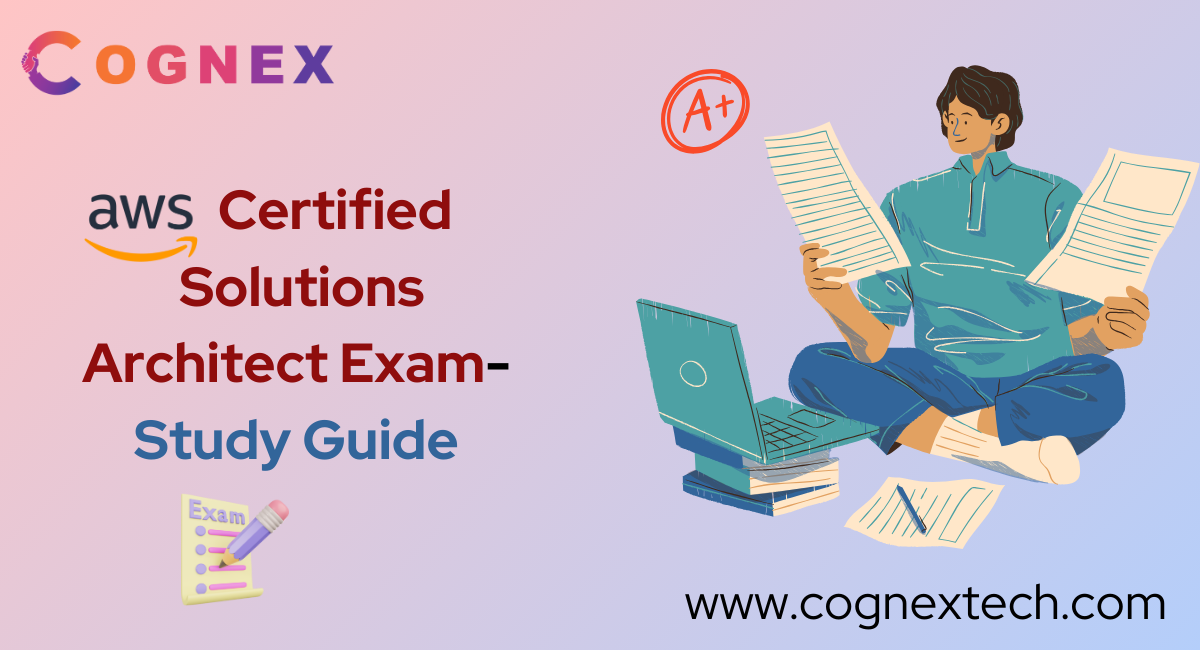 AWS Certified Solutions Architect Exam- Study Guide
The AWS Certified Solutions Architect Exam is a thorough and well-known evaluation for cloud computing and architecture experts.
The need for qualified and accredited solution architects has grown dramatically as cloud technology dominates numerous industries. This blog aims to offer a thorough study manual for people getting ready to take the AWS Certified Solutions Architect Exam, concentrating on crucial subjects, best practices, and winning tactics.
What is the AWS Certified Solutions Architect Exam?
Amazon Web Services (AWS) offers the Certified Solutions Architect exam as a credential that verifies a candidate's knowledge and proficiency in creating and implementing sophisticated AWS infrastructure and applications. AWS Solutions Architects are experts in developing complex, scalable, and highly available solutions for the Amazon Web Services (AWS) cloud infrastructure.
This certification, which is well-known in the IT business, is offered at both the associate and professional levels.
The AWS Certified Solutions Architect certification has two primary levels:
AWS Certified Solution Architect- Associate
AWS Certified Solution Architect- Professional
Essential tips to keep in while preparing for the AWS Exam:
Your cloud computing career may benefit significantly from passing the AWS Certified Solutions Architect exam. Here are some pointers to assist you in successfully preparing and boosting your chances of success:
1.Blueprint for the exam:
Examine the study manual and blueprint for the AWS Certified Solutions Architect exam. To know what to concentrate on, understand the themes, domain names and their relative weights.
2.Practical Experience:
Improve your practical skills by utilizing AWS services, training and products. Understanding how various services interact is best learned through practical experience.
3.Examine the AWS official documentation:
AWS provides comprehensive documentation, which is an essential tool for exam study. Learn about the AWS user manuals, FAQs, and whitepapers.
4.Use the AWS Free Tier to practice:
AWS provides a free tier with constrained resources. Use this to practice putting up services, developing architectures, and experimenting without spending money.
5.Utilize sample questions and practice tests:
Make use of the sample questions and practice examinations. They give you a sense of the kinds of inquiries you might get and assist you in identifying your weak points.
6.Mastering Best Practices for Architecture:
Discover the best methods for creating safe, scalable, and highly available infrastructures. Think about cost and performance optimization.
7.Investigate VPCs and networking:
Learn how to set up and create an AWS Virtual Private Cloud (VPC). Recognize route tables, security groups, network ACLs, and subnets.
8.Managing Your Time during the Exam:
Use your time wisely because the exam has a time limit. If you run into trouble, mark a question for review, then go on. If necessary, go back to it later.
9.Remain Calm and Read Thoroughly:
Make sure you comprehend the questions by carefully reading them. Keep your cool and maintain your focus.
10.Join AWS Communities:
Join AWS forums, user groups, and online communities to exchange knowledge, get advice, and ask questions.
11.Take Breaks When Necessary:
Given the exam's length, taking brief breaks as needed is acceptable. Your focus may be maintained with its assistance.
You should keep in mind that AWS course exams can be challenging. However, with careful planning and practical experience, you can improve your chances of passing the AWS Certified Solutions Architect exam.
Understanding the AWS exam structure:
For a profession in cloud computing, an AWS training and certification course is required. When studying for an AWS certification course, it is essential to understand the exam blueprint fully. The exam's themes and goals are broken down in great depth in the exam's blueprint. It makes you more prepared and helps you concentrate on critical topics.
Start by gaining access to the AWS official exam guide. The exam blueprint often lists several domains or categories corresponding to various AWS knowledge areas. Each part will be assigned a percentage weight representing its significance to the exam.
You will have a list of specific goals or competencies to prove your mastery of each domain. You should carefully read these objectives to understand what you should learn.
Determine your knowledge gaps using the blueprint. Look for reading materials and other study aids that focus on the domains and goals listed in the plan. Practical knowledge of AWS services is essential. The program frequently calls for developing valuable talents in the real world.
As you achieve your goals, cross them off your list to show how far you've come. Be mindful that AWS certification tests are routinely revised to reflect modifications to AWS services and best practices.
Register for AWS Training:
Visit the AWS Training and Certification Website to sign up for AWS training. Investigate the training possibilities by visiting the AWS Training and Certification page.
Look through the different training programs that AWS has to offer. From beginners to experienced instructors, these courses are designed to accommodate a range of skill levels.
To learn more about the course's aims, prerequisites, and content, click on the specific training course or resource that piques your interest.
Click the "Enroll" or "Register" button, as appropriate, to sign up for an instructor-led course. To finish the registration process, adhere to the on-screen directions.
Check the cost and scheduling information for the course you're considering. Some classes might be cost-free, while others might have a price.
Fill out any registration papers needed and, if applicable, give payment information for paid courses.
After registering, you'll often get information on accessing the course's training materials, virtual classrooms, or other resources.
Please be aware that the availability and location of AWS training materials and courses may change. The AWS Training and Certification website provides the most recent course offerings, scheduling, and location details.
Conclusion:
In conclusion, passing the AWS Certified Solutions Architect test is possible with the appropriate approaches and diligent preparation. This certification allows you to pursue exciting job prospects in the cloud computing industry while demonstrating your skill in building and implementing sophisticated AWS solutions.
Wishing you luck as you study for your exams!