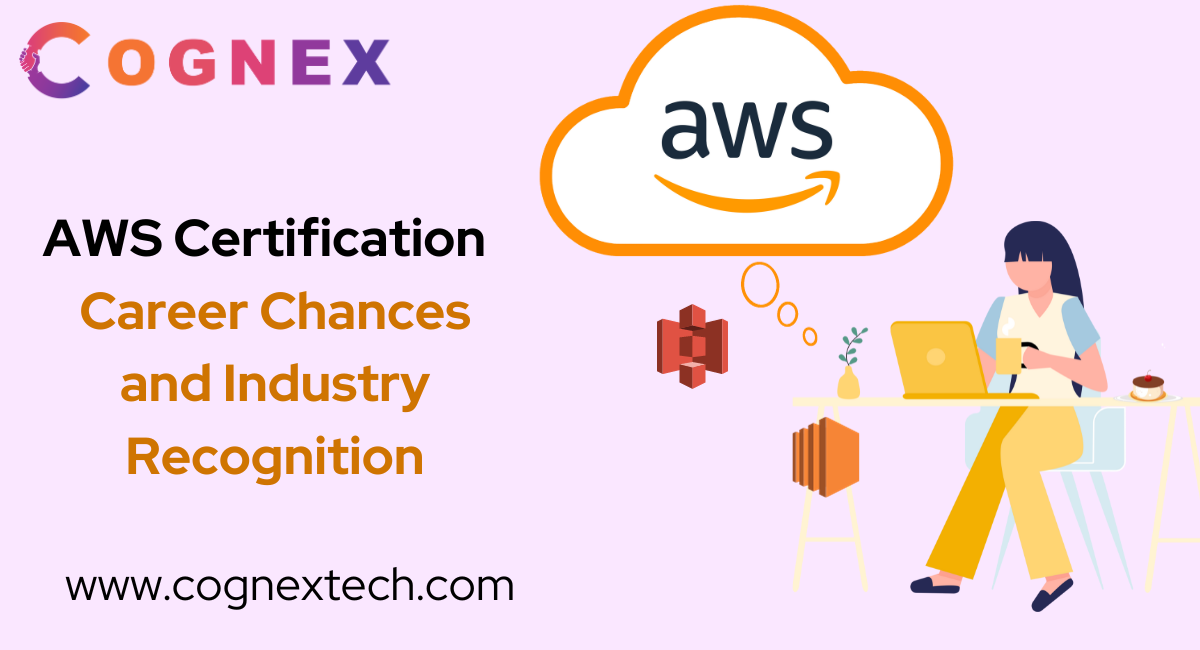 AWS Certification Advantages- Career Opportunities And Industry Recognition
The rapid rise of cloud computing has resulted in an increase in demand for qualified personnel with Amazon Web Services expertise. The fast expansion of cloud computing has resulted in an increase in demand for competent workers with Amazon Web Services expertise(AWS), the World's leading cloud platform.
AWS certifications have emerged as a crucial tool in the competitive employment market as businesses seek highly trained people.
This blog will explain the AWS certifications that contain several advantages in terms of career opportunities and industry recognition.
What is AWS Certification?
AWS (Amazon Web Services) Certification is a program that Amazon offers to authenticate an individual's experience and talents in several cloud computing fields linked to AWS services. If you want to learn about AWS services training and become proficient in using them, you have many options. AWS offers a number of resources to assist users and organizations in developing their skills and knowledge.
AWS Certified Cloud Practitioner- This is the fundamental qualification and is appropriate for people with non-technical or entry-level backgrounds. It includes the basics of AWS services, architecture, security, pricing, and compliance.
AWS Certified Solution Architect- This certification consists of two levels – Associate and Professional. The Associate level is for architects with some experience, while the Professional level is for architects with extensive experience.
AWS Certified Developer- This certification, which is available at the Associate level, is intended for developers who deal with AWS services and need to demonstrate their programming and development skills within the AWS environment.
AWS Certified Security- This certification is available at the Specialty level and focuses on AWS security procedures and technologies.
AWS Certified Data Analytics- This is also available at the Specialty level at the speciality levels. This certification was designed for professionals who work with Amazon Redshift, AWS Glue, and Amazon Kinesis data analytics services.
AWS Certified Machine Learning- This Specialty-level certification is intended for those who have competence in AWS machine learning and AI technologies, such as SageMaker and AWS AI services.
AWS Certified Advanced Networking- This Specialty certification is intended for networking professionals who want to demonstrate advanced networking abilities within AWS.
AWS (Amazon Web Services) remained an important player in the cloud computing sector, with promising future prospects. However, it is vital to highlight that the technological landscape is continuously evolving, and market dynamics might shift. The Future Scope of AWS is that AWS was growing rapidly in terms of revenue, market share, and client adoption. As more businesses moved to the cloud, AWS was well-positioned to gain from this trend.
Receiving an AWS certification can help people progress their careers in cloud computing by validating their abilities and understanding of AWS services.
What are the benefits of having AWS Certification?
Because of the increasing acceptance of cloud computing and AWS services by businesses and organizations worldwide, a career in AWS (Amazon Web Services) may be both rewarding and in demand. Receiving an AWS Certification provides various benefits that can impact your career and professional development. Here are some of the main benefits of AWS certification:
Validation of Expertise- AWS certificates certify your competence and skills in efficiently using AWS services. They act as a third-party verification of your knowledge, which can be essential when applying for new jobs or seeking progress within your existing organization.
Career Advancement- AWS-certified professionals frequently have an advantage in the employment market. Plenty of companies actively seek AWS-certified applicants to fill tasks that demand cloud experience. A certification can help you find a job or advance within your present organization by opening up new opportunities in your field.
Higher Earning Potential- Individuals with AWS certification often earn more than their non-certified peers. Employers are prepared to pay a premium for employees with recognized cloud abilities. Thus, AWS certifications are a worthwhile investment in your future earnings potential.
Global Recognition- AWS certifications are globally recognized and appreciated. AWS qualifications offer weight and credibility in the global job market, whether you're looking for work in your local area or contemplating overseas options.
Access to Exclusive Resources- AWS frequently grants certified professionals special access to resources such as job boards, partner programs, and networking events. These tools might assist you in connecting with other industry professionals and discovering new employment prospects.
Enhanced Job Security- As more businesses transition to the cloud, there is a greater demand for AWS-certified professionals. A certification can boost your job security by making you a valuable asset to your employer in the continuously developing sector of cloud computing.
Continuous Learning- AWS certifications require applicants to stay current on the latest AWS services and best practices. This promotes ongoing learning and professional development, keeping you at the forefront of cloud technology.
Contributing to projects- Certified AWS specialists may help AWS-based initiatives succeed by ensuring that they are implemented securely, efficiently, and in accordance with best practices. This can result in better project outcomes and increased client satisfaction.
Employer Benefits- Having AWS-certified employees can lead to AWS Partner Program prospects, potentially bringing in more business and money to enterprises.
Personal Achievements- Achieving an AWS Certification is a personal achievement that demonstrates your commitment to understanding cloud technology. It can provide a sense of accomplishment as well as an incentive for further education.
In conclusion, AWS certifications can give numerous advantages, including job progression, higher earning potential, and access to useful resources and networking possibilities.
Which AWS Certification is best for jobs?
AWS (Amazon Web Services) provides a comprehensive AWS training and certification courses to assist professionals in developing cloud skills and validating their knowledge of AWS services and solutions. The optimal AWS certification for jobs is determined by your career goals, amount of expertise, and the exact job roles you want to pursue inside the AWS ecosystem.
AWS Certified Solution Architect- This certification is for anyone who desires to create and deploy scalable, highly available systems on AWS.
AWS Certified Developer- This Certification is perfect for individuals who work with AWS Services and for those who want to demonstrate their proficiency in developing, deploying, and debugging cloud-based applications.
AWS Certified SysOps Administrator- This certification is designed for system administrators, operations professionals, and those in charge of administering and supporting AWS infrastructure. SysOps Administrator, Systems Administrator, and Cloud Operations Engineer are all possible job titles.
AWS Certified DevOps Engineer- This certification is appropriate if you are interested in DevOps approaches and want to focus on automating and optimizing AWS operations. DevOps Engineers, Automation Engineers, and Release Engineers will find it useful.
AWS Certified Security Architect- This is an advanced certification for Solution Architects with prior experience. It is intended for professionals who wish to demonstrate their knowledge of complicated, enterprise-level AWS solutions.
AWS Certified Security- This certification focuses on best practices for security and safeguarding AWS infrastructure. It is useful for positions such as Security Engineer, Security Analyst, and Security Consultant.
AWS Certified Data Analytics- This certification is useful if you're interested in data analytics and working with AWS data services. Data Analyst, Data Engineer, and Big Data Developer are all job titles.
AWS Certified Machine Learning- Individuals with strong experience in machine learning and AI who wish to work on AWS's machine learning services should pursue this certification. Machine Learning Engineer and AI Specialist are two possible job titles.
AWS Certified Advanced Networking- This certification is intended for networking professionals who want to demonstrate their knowledge in designing and implementing AWS networking solutions. Network Engineer and Cloud Network Architect are two job titles.
AWS Certified Cloud Practitioner- This entry-level certification gives an overview of AWS services and cloud computing. While it may not be sufficient for technical professions, it is useful for non-technical roles such as sales, marketing, and management that require a basic awareness of AWS.
You can find these AWS Courses in our AWS training institute located in Chennai.
Consider your present abilities, career ambitions, and job market demand in your region to determine which AWS certification is ideal for your job chances. It's also a good idea to talk to people in your desired sector and look through job advertisements to discover which certifications are frequently required by employers.
Conclusion:
In Conclusion, AWS certifications provide numerous advantages in terms of job options and market reputation. They provide a path for you to develop and confirm your competence in AWS services, which will lead to more job opportunities, greater incomes, and a competitive advantage in the IT job market.