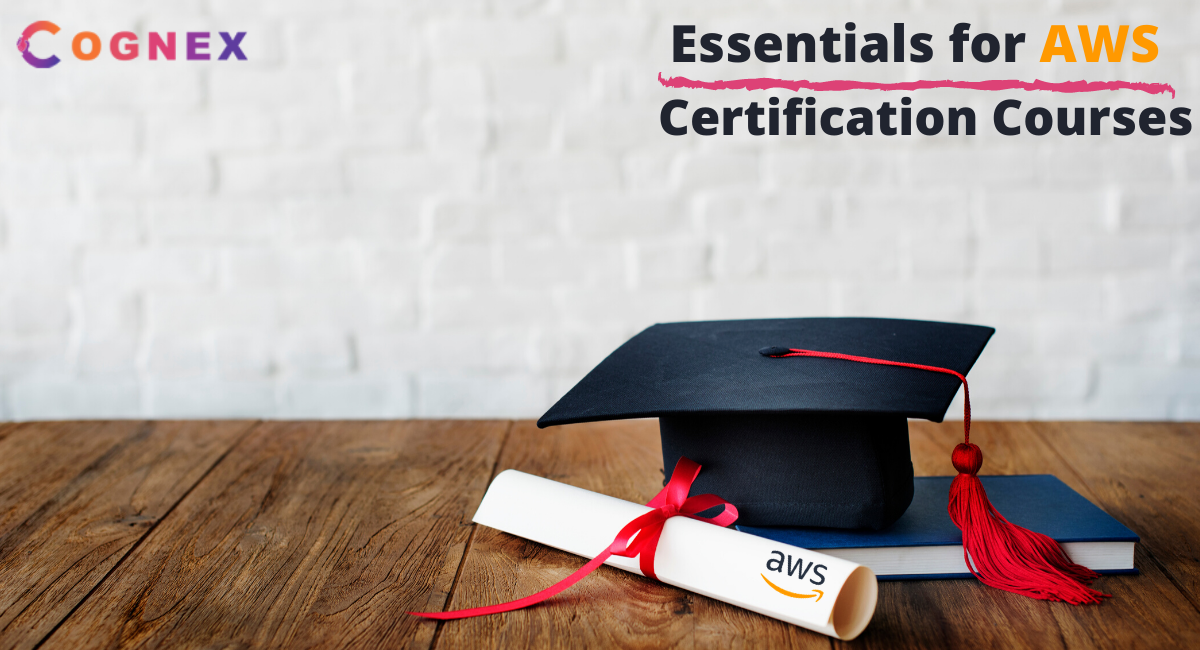 All Essentials For AWS Certification Courses
Amazon Web Services shortly termed as AWS is the most searched cloud computing certification course online. Some questions arise in our mind relating to the popularity of the certifications like,
Why choose cloud computing?
Why AWS certifications for cloud computing?
What are the available AWS Certification Courses?
Are these certifications worth?
How to get AWS certifications?
What are the top occupations that ask for AWS skills?
Read on to get all of your questions answered.
Why choose Cloud Computing?
Cloud computing is the future technology and technology of the future. The cloud computing domain has emerged as an inevitable part of many businesses today. Some few reasons as to why you should choose cloud computing are
High on-demand jobs
Cloud computing's emergence phase provides professionals with promotions in the current organization or helps to land in prominent roles in high-profile organizations. Starters with technical knowledge and passion can acquire a secured career with prospective growth.
Cloud Computing skills are globally relevant
Cloud computing service providers like AWS provides services to customers worldwide, so there are chances of obtaining global jobs.
Greater paychecks
The average salary for cloud computing professionals in the US is $120,258 per annum, which is approximately Rs 9,00,000 Lakhs.
Why AWS Certification Courses for cloud computing?
AWS is a leading cloud computing service provider, and currently, AWS certifications are the most sought-after certifications. AWS training programs gives both theoretical knowledge and practical skills to perform well in the current or future cloud computing job role.
Many IT job roles will have some level of exposure to cloud computing in future so pursue your certifications ahead. Moreover, AWS Certifications display professionalism to your employer.
What are the available certifications?
AWS currently offers four levels of certification - Foundational, Associate, Professional, and Speciality.
Foundational - teaches AWS cloud fundamental concepts and is suitable for starters.
Associate - any individual with a technical background or having work experience in AWS cloud can choose this level.
Professional and Speciality - seasoned professional, with many years of experience in AWS cloud computing can elect this category.
Are obtaining these certifications the worth?
AWS certifications are the best choice to start or update your cloud computing career.Learning and earning AWS certifications from the leaders heightens job profile. There is a long list of top occupations that ask for AWS skills
Pro tip:
The job interview tests your skills in the AWS context, for instance, if they ask about the procedure for connecting multiple sites to a VPC, provide them with a relevant answer.
How to get AWS certifications?
Register for an AWS certification account.
Foundational - Complete the AWS training period and 90 minutes multiple-choice quiz to earn the Cloud Practitioner Certification.
Associate - 1 year of experience in AWS environment and completing 2 hours multiple-choice quiz gives you Associate Certification.
Professional - 2 years of experience in the relevant AWS environment and completing 2 hours multiple-choice quiz provides you with the professional certification.
Specialty - a seasoned professional, can apply for this category.
Database and Data Analytics require the completion of 3hours multiple-choice quiz.
Big Data and Machine Learning require the completion of 170 minutes multiple-choice quiz.
Free Online Training Resources for AWS Certification Courses
There are some excellent training sources that one can avail online for free, they are,
Virtual Classroom Training,
Digital Training,
Free AWS Video & YouTube Tutorials,
AWS Exam Guide,
AWS Practice Exam,
AWS Learning Library,
AWS Blog Articles,
AWS Qwiklabs Catalog,
AWS Whitepaper's & FAQ.
Dedicate and train for 80-120 hours for the completion of courses available. Make use of the above free resources to acquire the best results.
7. List of Top Occupations that ask for AWS skills
Software Developer or Engineer
Computer Systems Engineer or Architect
Network Engineer or Architect
Cyber Information Security Engineer or Analyst
Web Developer
Network or Systems Administrator
Data Engineer
Database Administrator
IT Project Manager
Database Architect
Holding the right AWS certifications can be profoundly beneficial when competing for highly specialized job positions in cloud computing.
Conclusion
The above discussion gives some necessary understandings on the significance of undertaking AWS Training and obtaining AWS certifications for an elevated and prospective cloud computing career.